IF you think your the only one who fangirls and fanboys…well think again because idols are human too and they sure have their idols too, some show their inner fangril/boy more then others.
Twice's Momo  
It looks like Momo is a big kpop fan more importantly her idols is Minho, just look that expression on her face when she met him… probably thinking "is he human?".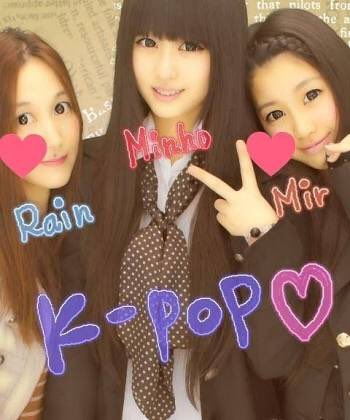 2NE1's Dara
Dara once revealed,on SBS Family Outing, that she's a big fan of Lee Hyori, when she was younger she wrote a post letter on Lee Hyori fancafe back in 2003 under the name ''Smiling Eyes Wabang Hyol'. To this day she still shows her support.

The post translates:
"I know that Hyori unnie would come to the Philippines
That you will come to me~! Kkk
Seeing in only after 1 year +.+ (Still don't know if I will see you or not -_-;;)
But still ㅠ.ㅠ HeukHeuk it's good~!
Should I hold a banner when you arrive at the airport or should I just wait -_-?
Kk it is a little weird to hold banner when you are overseas kk
I even wrote you letters
Ai~ Like you~!"
EXO's Chanyeol
Speaking of Dara, netizen dicovered Chanyeols old SNS, Cyworld, which was full of Dara photo. Furthermore, Chanyeol said in an interview he liked Dara. His inner fanboy showed when he was sat close to Dara during MAMA.. just look at his face.

The interview translates:
Question: Do you have any favorite celebrity?
EXO Chanyeol: I like 2NE1′s Sandara Park.

Got7's Bambam
During an episode of  Mnet's "M!Countdown," Bambam was in an elevator with Big Bangs where  he stated it was a big deal for him and how hes a huge fan of the group, later Daesung said  "I heard you like G-Dragon in particular." Then he reads a message that BamBam wrote to G-Dragon in the past. Gdargon is with great fan service and it was no different with Bambam when he hugged him.

The letter translates: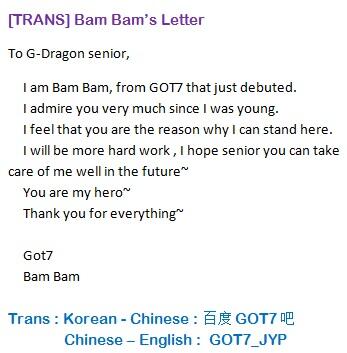 Here are some more cute photos of idols fangirling/fanboying
B1A4's Baro – SNSD

GFriend's SinB  – BIG BANG

MAMAMOO's MoonByul – F(X)

SEVENTEEN's Hoshi – SHINee

BTS's Jungkook – Big Bang