Like Gdragon said in 'knock out' "all my scandals, wait for me" and they sure do when we cover all the dating rumours that have surrounded GD ever since his debut.
Kim Jinah

Kim Jinah is ballerina and a daughter of a important and rich figure in Korea. While they were speculations she was his ex-girlfriend, some claim GD just liked her because she already had a boyfriend. This rumour began when fans suspected the "J"  initial GD mentioned at the end of his cover of 'This love' song was about her. When you look at the lyrics of 'This love' (GD re-wrote the lyrics) there are many links toward her such as the mention of "September 19 your birthday" which is her birthday (September 19 1988).

Kim Dong Hwa

There is little information about this 'relationship' but from the pictures fans claim she's GD's ex-girlfriend. Kim Dong Hwa is 6 years older then GD, she owns a bar/restaurant that Seungri use to work in for his Manwon Happiness challenge. Many fans tend to mix infos and picture of  Kim Dong Hwa and Kim Jinah thinking their the same person. 
Kiko Mizuhara

Kiko is half American and Half Korean but has lived in Japan all her life, she's a model. Kiko was the longest rumoured girlfriend with many speculation of an 'on and off relationship', numerous evidence such as paparazzi photos, hacked videos from his private account and lovestagam (matching photos on SNS) etc. While they confirmed being just friends anything else other then that was unspoken of. They where rumoured to have broken up just as they were rumoured dating.

Nana Komatsu

Nana is a Japanese model who worked alongside GD. No one batted an eye when the two were modelling together for a photoshoot but it was after his private instagram was hacked  and leaked photos of the two looking close were revealed, when the speculations began. These rumoured were debunked when it was revealed Nana was dating an actor called  Masaki Suda.

Taeyeon

SNSD's Taeyeon was rumoured to be dating GD after fans compared similarities between their social media and clothing items. This was quickly denied by both companies.

Dara

Before Any rumours 2ne1's Dara was linked to GD with an ongoing ship among (mainly Dara) fans however it became a public rumour when GD decided to play a little joke by putting Dara in a head lock at an after party that got everyone attention due it been mistaken as GD 'kissing' Dara. Just like Taeyon's rumour, YG wasted no time denying it stating GD did it as a joke.
Sulli

Although Sulli is dating publily rumours still flooded in about possible relationship with Gdragon after similarities where again spotted between the two's SNS. It was brought back to light recently when both were spotted hanging together with a bunch of other friends. However this is not the only time, back when Sulli was in F(x) Gd called sulli cute and indirectly kissed her which gain a ton of attention especially with Sulli's innocent image at the time.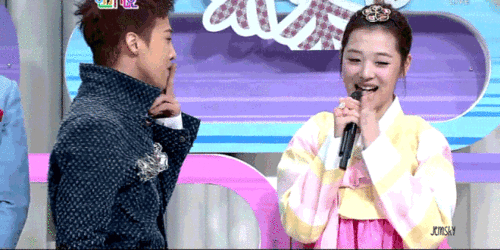 Hara

Hara was one of the other friend and she found herself stuck in dating rumour with GD as well. Goo Hara soon denied the rumours.

Gdragon stated he won't reveal who e dates if his girlfriend is not comfortable about it.